Thanks - this must be the article – will most def help with my Lokar install: 
http://www.hotrod.com/how-to/transmission-drivetrain/1504-the-lowdown-on-stock-torqueflite-kick-down-linkage/
The Bouchilon hardware is certainly most Mopar like.  Only problem being finding the longer and correct throttle cable with the clevis on both ends.
I took a short cut on the electric choke wire too – has to be 12V here.....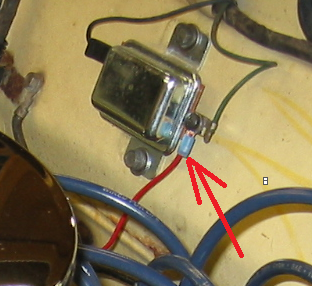 Great Pictures and Congratulations! Further to Gary's comments, you have probably seen this magazine article, but if not I'd regret not mentioning it. April 2015 Mopar Muscle has an article "The Lowdown on Kick Down". If you haven't seen it, I'd be glad to scan it and post it to this thread.
I used a Bouchillon Performance cable kit which included the new transmission lever, but I find their cable bracket at the carb a bit flimsy. I'm still working with it to get the "sweet spot" for Kick Down and shift points.
Also, would you mind telling me where you connected your choke heater wire? I was lazy and tried to keep from going thru the firewall and just connected it to the ballast resistor, which created all kinds of problems. 
I Love your pictures! They are an education!
'63 Sport Fury

On Friday, May 15, 2015 at 9:41:38 AM UTC-4, Plucked Chicken wrote:
The Poly roared to life last night after being down for rebuild.  First time run with the new intake manifold.  After a half hour at 1,500 RPM took her around the block a few times.  After dinner went a little further and gassed her up.  Seems to be doing good, time for some break-in runs......

 

Coil location is shown in pic 002 with homemade plate using the bolt holes in the engine head.  That pic also shows the Lokar throttle cable and bracket.  Have not installed the kick-down cable yet.

 

That 256 cam from Gary P / Schneider cams most def has some lope to it at idle.  And a little push-you-back into-the-seat even at part throttle so far.  But then the bench seat springs are 53 years old....  ; )

 

>The stock cam profile is an anemic 240/.390-.400" (1...@.050") and the first HP Cam is the  Poly 256/.435" (2...@.050") solid.

 

http://schneidercams.com/solidliftercamshafts-11.aspx

 
--
--
--
Please address private email -- email of interest to only one person -- directly to that person. That is, email your parts/car transactions and negotiations, as well as other personal messages, only to the intended recipient. Do not just press "reply" and send your email to everyone using the general '62-'65 Clubhouse public email address. This practice will protect your privacy, reduce the total volume of mail and fine-tune the content signal to Mopar topic. Thanks!
 
1962 to 1965 Mopar Clubhouse Discussion Guidelines:
http://www.1962to1965mopar.ornocar.org/mletiq.html and http://www.1962to1965mopar.ornocar.com/general_disclaimer.html.
--
You received this message because you are subscribed to the Google Groups "The 1962 to 1965 Mopar Mail List Clubhouse" group.
http://groups.google.com/group/1962to1965mopars?hl=en.

---
You received this message because you are subscribed to the Google Groups "The 1962 to 1965 Mopar Mail List Clubhouse" group.
To unsubscribe from this group and stop receiving emails from it, send an email to 1962to1965mopars+unsubscribe@xxxxxxxxxxxxxxxx.
For more options, visit https://groups.google.com/d/optout.