The UCA bushings can be done in a large vice also. When I did '62 front suspension – had good ol' NAPA do the LCA press work – most still have a machine shop in the back..........
My parts list – the eccentric bushings and cam bolts are both must haves IMHO:
Torsion bars - .92 dia - Mopar Performance P5249157 (.88 dia stock)
- Idler/pitman/tie rods
- Torsion bar adjusters/seals/clips
- LCA bushings & pivot shafts
– Bump stops upper & lower
- Ball joints
- Strut rod bushings Moog K7039
- UCA (A-arm) cam bolts Moog 8243A
- (UCA Bushings Moog K408)
- Eccentric UCA bushings Moog K7103
From: 1962to1965mopars@xxxxxxxxxxxxxxxx [mailto:1962to1965mopars@xxxxxxxxxxxxxxxx] On Behalf Of B M
Sent: Thursday, April 13, 2017 8:23 AM
To: 1962to1965mopars@xxxxxxxxxxxxxxxx
Subject: Re: front suspension
I'll guess the most of the $1200.- is labor
If you have the time, and proper wrenches, you can do it yourself
You'll need a hydraulic hand)press for the upper control arm bushings
When you follow the prescription, and while busy a lot becomes clear
---
Here is a picture of the lower ball joint from Rock Auto.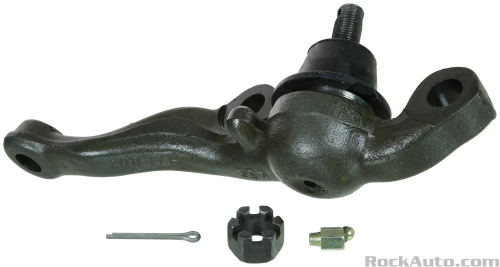 On Thursday, April 6, 2017 at 8:16:02 PM UTC-5, Paul L. http://1962to1965mopar.ornocar.org/ml-le wrote:
I took my 63 to the shop today for a front end alignment. I had turned up the torsion bars for more ground clearance. Well they told me I need new ball joints upper and lower and new tie rod ends, plus a radius arm bushing (?). They estimated the job at $1200. I'm thinking I can do most of the work myself and save $$$$. I've priced the parts on Rock Auto and they are probably less than $200. Any pitfalls in doing this work?

Paul L.
--
--
--
Please address private email -- email of interest to only one person -- directly to that person. That is, email your parts/car transactions and negotiations, as well as other personal messages, only to the intended recipient. Do not just press "reply" and send your email to everyone using the general '62-'65 Clubhouse public email address. This practice will protect your privacy, reduce the total volume of mail and fine-tune the content signal to Mopar topic. Thanks!

1962 to 1965 Mopar Clubhouse Discussion Guidelines:
http://www.1962to1965mopar.ornocar.org/mletiq.html and http://www.1962to1965mopar.ornocar.com/general_disclaimer.html.
--
You received this message because you are subscribed to the Google Groups "The 1962 to 1965 Mopar Mail List Clubhouse" group.
http://groups.google.com/group/1962to1965mopars?hl=en.

---
You received this message because you are subscribed to the Google Groups "The 1962 to 1965 Mopar Mail List Clubhouse" group.
To unsubscribe from this group and stop receiving emails from it, send an email to 1962to1965mopars+unsubscribe@xxxxxxxxxxxxxxxx.
For more options, visit https://groups.google.com/d/optout.

--
--
--
Please address private email -- email of interest to only one person -- directly to that person. That is, email your parts/car transactions and negotiations, as well as other personal messages, only to the intended recipient. Do not just press "reply" and send your email to everyone using the general '62-'65 Clubhouse public email address. This practice will protect your privacy, reduce the total volume of mail and fine-tune the content signal to Mopar topic. Thanks!

1962 to 1965 Mopar Clubhouse Discussion Guidelines:
http://www.1962to1965mopar.ornocar.org/mletiq.html and http://www.1962to1965mopar.ornocar.com/general_disclaimer.html.
--
You received this message because you are subscribed to the Google Groups "The 1962 to 1965 Mopar Mail List Clubhouse" group.
http://groups.google.com/group/1962to1965mopars?hl=en.

---
You received this message because you are subscribed to the Google Groups "The 1962 to 1965 Mopar Mail List Clubhouse" group.
To unsubscribe from this group and stop receiving emails from it, send an email to 1962to1965mopars+unsubscribe@xxxxxxxxxxxxxxxx.
For more options, visit https://groups.google.com/d/optout.

--