Sharp – sure mounted forward – are those the twin or single post?
Almost look like these:
http://www.moparmall.com/Side-Mirror-with-Mounting-Gasket-for-1957-1959-Ply-p/832-031.htm
From: 1962to1965mopars@xxxxxxxxxxxxxxxx [mailto:1962to1965mopars@xxxxxxxxxxxxxxxx] On Behalf Of Doug J
Sent: Tuesday, October 31, 2017 7:35 PM
To: 1962to1965mopars <1962to1965mopars@xxxxxxxxxxxxxxxx>
Subject: Re: 1962 Fury to it's new home
I thought any of the mirrors off the door on Dodge/Plymouth cars were dealer installed? I worked for a dealership in the 70's / 80's that was in business from way back. The parts guy was around since the 40's. Told me that was the case on my '63 hardtop.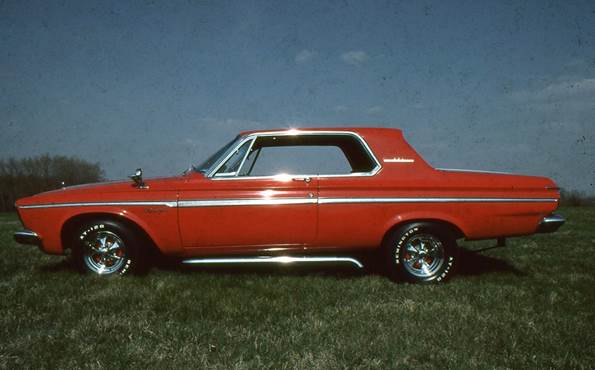 ​
On Tue, Oct 31, 2017 at 8:49 PM, NICHOLAS TIBERIO <furyus63@xxxxxxxxxxx> wrote:
Gary,

That's the way it was set up on my '64 Dodge Polara, on the drivers door. On the '62 Fury it was on the dash.

Nick T.

On October 31, 2017 at 4:36 PM 62-65-mail-list-club@xxxxxxxxxxx wrote:


Wasn't there 2 types of these mirrors? One was a cable-operated remote for the driver side and the passenger side was
manual (stand there and push the mirror). These mirrors were on Chryslers, maybe Imperials. The remote was on the
driver's side door near the the top front if I recall right.

Gary H.

-------Original Message-------

What a beauty she was too. Was thinking of those mirrors for my Dart.
Have a pic just like that of a Canadian Dart with them too. The repros
don't come with the dash bezel though – wonder what other bezels
fit.

Do you have a dash pic showing where the remote adjuster mounts?
--
--
--
Please address private email -- email of interest to only one person -- directly to that person. That is, email your parts/car transactions and negotiations, as well as other personal messages, only to the intended recipient. Do not just press "reply" and send your email to everyone using the general '62-'65 Clubhouse public email address. This practice will protect your privacy, reduce the total volume of mail and fine-tune the content signal to Mopar topic. Thanks!

1962 to 1965 Mopar Clubhouse Discussion Guidelines:
http://www.1962to1965mopar.ornocar.org/mletiq.html and http://www.1962to1965mopar.ornocar.com/general_disclaimer.html.
--
You received this message because you are subscribed to the Google Groups "The 1962 to 1965 Mopar Mail List Clubhouse" group.
http://groups.google.com/group/1962to1965mopars?hl=en.

---
You received this message because you are subscribed to the Google Groups "The 1962 to 1965 Mopar Mail List Clubhouse" group.
To unsubscribe from this group and stop receiving emails from it, send an email to 1962to1965mopars+unsubscribe@xxxxxxxxxxxxxxxx.
For more options, visit https://groups.google.com/d/optout.

--