---
It seems there IS a remake of Christine planned...
From: Webmaster
Email: postmaster@forwardlook.net
Remote Name: 199.181.112.135
Date: September 17, 2003

Comments
From: http://www.creature-corner.com/news3/sep09christine.php3
CHRISTINE TO MOW DOWN THE PEACOCK?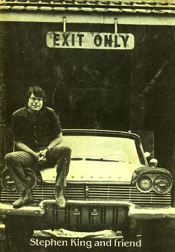 9.9.03
By Johnny Butane
Contributing Sources: Fangoria

According to Fangoria there is news over in the Entertainment Weekly camp that Richard Korbitz, producer of John Carpenter's 1983 adaptation of Christine, is suing Sony Pictures and NBC television for keeping him out of the loop in regards to a mini-series remake of the Stephen King story about a boy and his demonically possessed car. Wait...could that mean a remake is planned?

Sure seems that way since a lawsuit is being drawn up because of it. No "official" news has sprung forth from NBC or Sony as of this writing, but I'm sure with this bit out there some digging will be done soon enough. My initial reaction was outrage and disgust over the idea of remaking Carpenter's (admittedly flawed) picture but you know what? I'm beyond the point of caring anymore.

NBC did their remake of Carrie and it did no harm or foul to DePalma's version, and in fact helped a lot of fans discover it for the first time. King and Garris did their small screen remake of The Shining, and look where that is now in the minds of horror fans when compared with Kubrick's.

Essentially, if Christine is getting remade for today's audience on NBC in two hour chunks spread out over sweeps week, good for Christine. I'll just snuggle up with my copy of Carpenter's film and rest well in the knowledge that it's already been done pretty durned good once, and that's enough for me.


---
Last changed: May 04, 2010