If you own a 1958 Plymouth, you no doubt have heard of the rare copper-plated brass charm bracelets that were a prestige dealer giveaway item.  These bracelets have become one of the hardest-to-find 1958 Plymouth collectibles.  In my years of collecting, I have only heard of four others besides my own.
Originals have sold on eBay with the end prices reaching over $500.  That's quite a lot for a brass bracelet...
Because so many people have inquired about purchasing mine, I went to a local handcrafted jewelry artist to discuss the possibility of having these bracelets reproduced.  He was able to make excellent quality molds off of the originals, and recreate them in .999 Sterling Silver with a matching Sterling link bracelet.  (Note: If you are interested in a 14k/24k gold or platinum version of this bracelet, please contact me and I will ask the jeweler about having it cast in your choice of precious metals.)
These handcrafted silver reproduction bracelets will be available for a limited time only.  Due to the high production costs for custom jewelry, it is unlikely that I will be having any more made in the future.  Please, if you are interested, place your order now at the link provided below.  Shipping date will be approximately the first week in March.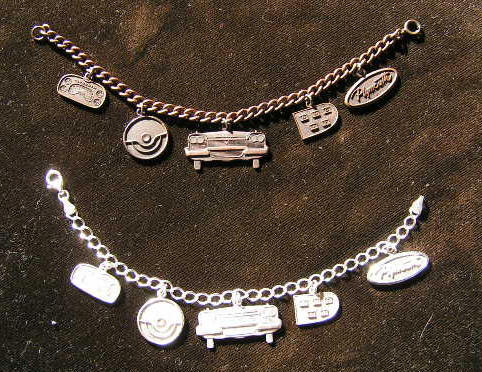 Original brass bracelet (top) with Sterling Silver reproduction (bottom).  Sorry, the sunlight on the silver
washed out the bottom brracelet a bit.  Please see the detail photos below.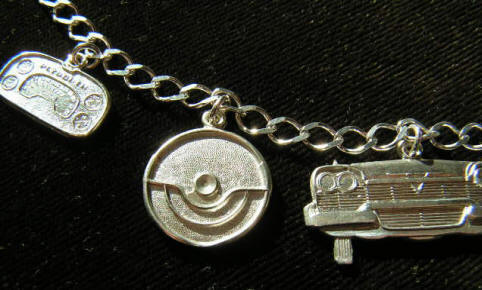 Detail view of the instrument cluster, steering wheel, and Plymouth front.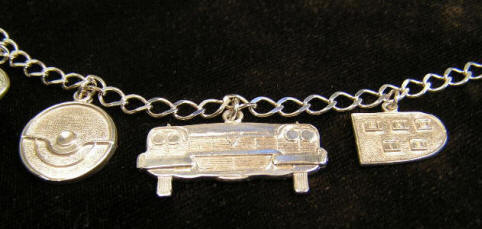 Detail view of the steering wheel, Plymouth front, and pushbutton shifter.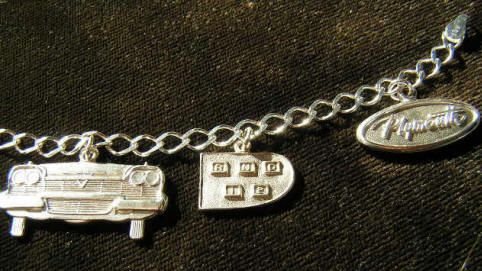 Detail view of the Plymouth front, pushbutton shifter, and Plymouth oval logo.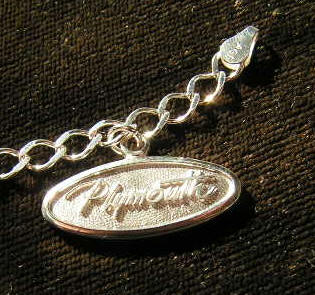 Detail view of the Plymouth oval logo and clasp.