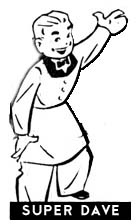 Expert

Posts: 2330







Location: central oklahoma!
some of you may have noticed my recent return. some may have wondered where i've been, and particularly why i was absent from the "upper board". though i have declined to comment on the reasons for some time, i suppose now is as good a time as any.
i know many of you remember the great fun we had at tulsarama back in 2007. it was a great time, and a real high water mark for the board. participation surged, and this place became busier than ever. the forwardlook family was always truly that, a family. we first showed our rallying spirit over joe vicenzi, which proved to be a fraud. nonetheless, the family in fins forum became a solid fixture here. however, like any family, it began to have it's share of dysfunction.
not even 2 years after tulsa, i made the difficult decision to take a job offer and close down my practice. the benefits were simply too great, given the uncertainties of life as i was approaching the age of 50. how right i turned out to be. to make a long story short, between september of 2010 and august of 2013, i buried 8 family members and friends. when my brother was diagnosed with cancer, i chose not to post it here. i discussed it privately with uncle walt, and he completely understood my decision. sadly, that was not the end of the losses and grieving. i will not comment further as to that.
suffice it to say, we all deal with our challenges in our own way. i continued to do the best i could at moderating while not wanting sympathy or to spend additional time dwelling on very unpleasant subjects. on balance, i have done what was best for me, and think i have handled things as well as i could. on the other hand, the dysfunctionality over truly trivial matters can lead someone to find their limits, and i was no exception.
i realize this may come as a surprise to those of you who know me well, as i tend to be a very gregarious and indeed open person. however, i greatly dislike manipulative people and never wanted my duties as a mod to be clouded with personal issues i was dealing with. when the demands on my time became too great, i did what i had to do. now, i am back because i have always greatly enjoyed it here. while life has dealt me some incredible gut-punches dating back to childhood, it has also shown me incredibly good fortune. i decided as a child that i would never define myself as a victim.
please do not misunderstand this post. it is not about sympathy, venting, or excuses. i have been out of touch, and deliberately avoiding the one area where we hopefully would truly come together. it's not because i didn't care, but rather that i needed privacy. while i am stunned to learn about neil's passing, and will likely learn many other things i should have known about, i can't make things better so long after the fact. suffice it to say, i have had my own selfish reasons, and felt that some explanation was in order.