Expert 5K+

Posts: 9649








Location: Lower Mainland BC
.
I am presenting this in five parts. Part 1 is the back-ground to the first Dodge double-rocker "Red Ram" engine in 1953. Part 2 is the application of the engine in 1953 and 1954. Part 3 is about the 1955 Dodge Super Red Ram engine. Part 4 is about the 1956 Dodge D500 engine. Part 5 is about the 1957 Dodge D500 engines and a final summary of the changes over the 1953-57 period.

Part 1: The background V8 developments

The first Dodge V8 was introduced in 1953 as a 241 cubic inch, double-rocker (much later "hemi") valve-in-head V8 engine. It was the first Dodge V8, but it wasn't the first Chrysler Corporation V8.
Previously, in 1951, Chrysler had added a 331 cubic inch double -rocker valve-in-head engine to its New Yorker and Imperial lines. In 1952, it was Desoto who added their own V8, again a double-rocker,
this time a 276 cubic inch engine. In all three cases, the engines were designed by Fred Shrimpton, under the guidance of Mel Carpentier, head of the Engine Design department. As a result, although all of the engines were similar, they were almost all completely different in all dimensions, as will be shown below.

Chrysler's was experimenting with engine configurations, straight and Vee, L-head and overhead valve, wedge-shaped and hemispherical-shaped combustion chambers, as far back as the 1930's.
As Willem Weertman suggested in his book "Chrysler Engines 1922-1998", Chrysler Engineering had gained favourable experience during World War II with the development of hemi-spherical
shaped combustion chambers for the experimental XI-2220 inverted V-16 aircraft engine. After the war, Chrysler was falling behind in the engine "wars" with Cadillac's 1949 introduction of its overhead valve 331 cubic inch V8 and even the highly successful 1949 Oldsmobile "Rocket 88" overhead valve V8. Chrysler needed a high profile V8 to raise its status and street creds.

The Chrysler 90 degree V8 engine , that resulted, had displacement of 331 cubic inches as the Cadillac (based on the same 3 13/16" (3.8125") bore and 3 5/8" (3.625") stroke as the Cadillac V8).
However, with a hemispherical combustion chamber, canted valves on double rocker shafts, and 7.5:1 compression, the new Chrysler V8 "FirePower" double-rocker (later called "hemi") engine
with a 2 barrel Carter carburetor , it made 180 hp and 312 lb-ft torque (compared to Cadillac's 160 hp and 292 lb-ft of torque). Score 1 for Chrysler! Not only was it a powerful, torquey, engine,
it was also very fuel efficient winning two classes in the 1951 MobilGas Economy run from Los Angeles to the Grand Canyon (with 21.174 mpg and 19.208 mpg respectively). Score 2 and 3 for Chrysler!!

The 1951 Chrysler FirePower Engine




Perhaps anticipating the success of the Chrysler 331, Desoto was the next up to receive a new V-8 engine. Mel Carpentier again assigned Fred Shrimpton to pen the design. The result was more or less a scaled down version of the Chrysler Firepower which Desoto dubbed "Firedome". This first Firedome V8 had a bore of 3.625" and a stroke of 3.344" for a displacement of 276 cubic inches. The hemispherical combustion chamber had 1.75" intake and 1.41" exhaust valves (versus the Chryslers 1.8125" and 1.5" valves). The bore spacing was 4.3125" compared to 4.625" for the Chrysler. With a compression ratio of 7.1:1 (vs. 7.5:1 for the Chrysler) and a 2 bbl Carter carburetor, the 276 cu in Desoto Firedome made 160 hp and 250 lb-ft of torque. That was in both the Cadillac and Oldsmobile Rocket 88 ball parks to remain competitive, but appropriately down compared to the corporate big brother, Chrysler. One must know one's place afterall.

The 1952 Desoto FireDome Engine




Finally, by 1953, it was Dodge's turn for a V8. Because Mel Carpentier again tapped the same lead designer, Fred Shrimpton, to develop the new Dodge engine, it is not surprising that the Dodge engine looks similar to, but smaller than, both the Chrysler FirePower and Desoto FirePower Engines. That is, mostly. For reasons not clear to me, the Desoto engine and Dodge engine shared the same bore spacing, 4.3125", implying that they might have been machined on the same engine line from the exact same block. Alas, no. The Desoto had a 9.54" deck height whereas the Dodge had a shorter 9.29" deck height. Both had 2.375" main crank journals so some similarities continued, at least in the initial engines. The new Dodge had a bore of 3.4375" and a stroke of 3.25" for a displacement of 241.3 cubic inches which was marketed as "241". With the similar hemispherical combustion chamber, the valves were smaller than the others at 1.66" intake and 1.41" exhaust. The angle between the valve stems was 52 degrees (versus the Desoto's 53 degrees and 58.5 degrees for the Chrysler). With 7.1:1 compression and a Stromberg 2 barrel carburetor, the "baby" double-rocker engine was rated at 140 hp and 220 lb-ft torque, which curiously meant that the Dodge engine actually had the highest specific power (hp/ cu in) of the three initial double rocker engines at 0.5802 (compared to a very close, but still smaller, 0.5795 for the Desoto and 0.5437 for the Chrysler).

The 1953 Dodge"Red Ram" double-rocker engine


Los Tres Amigos


These comparison details for the first Chrysler, Desoto and Dodge double-rocker V8s are summarized in Table 1 .




Part 2: The 1953/54 Dodge Red Ram Engines

1953 Dodge Red Ram applications

In 1953 Dodge had two trim lines, the higher trim level Coronet and the low trim level Meadowbrook. The first application of the new Dodge Red Ram V8 in 1953 was to the Coronets, including 2 dr Club coupes, 4 door sedans, 2 dr hardtops, a convertible and a station wagon.

With a new V8 available, Dodge was off to the races, quite literally.

The relatively light 2 dr (Sedan) Club coupe with the new Red Ram V8 must have been enticing for racers because Lee Petty switched to a 1953 Dodge Coronet V8 for the 1953 season after campaigning light weight Plymouth coupes in NASCAR races for several years including 1952 (when he won 3 of 34 races against a field of mostly "Fabulous" Twin-H Hudsons Hornets and Oldsmobile 88 V8s). With the No. 42 Coronet V8 Club Coupe, he did very well in a very competitive field during the 1953 NASCAR season and won 5 of 37 races against mostly the Hudsons and Oldsmobiles and came 2nd in the 36th race of the season behind Jim Paschal in another 1953 Dodge. When the 1953 NASCAR season ended, Lee Petty was second overall in points and earnings behind Herb Thomas (in a Hudson).




1954 Dodge Red Ram

1954 brought some changes to the engine and to its application. The main change in the engine was an increase in the compression ratio to 7.5:1 and some changes to the 2 bbls carburetors that were used. These first tweeks resulted in a gain of 10 hp (to 150) and a bit more torque.

The application of this 150 hp Red Ram engine still included the Coronet V8s in 2 and 4 door sedans (now also available as Coronet Sixes) but it also expanded to a new more luxurious Royal line, including 2 and 4 door sedans , a hardtop and a convertible that only came with the 150 hp Red Ram V8. There were also Coronet V8 2 door Suburban and 4 door Sierra wagons.
You might think that Lee Petty would still be running a 2 dr Coronet V8 club coupe in NASCAR, and he did, but not as successfully or often as in 1953. In the 1954 season, he also ran a Chrysler New Yorker Deluxe Club Coupe with the new 4 bbl 235 hp 331 cubic inch Firepower engine. While he had no wins in the Dodge in 1954, he did win 7 of 34 starts in the Chrysler, enough to win the overall NASCAR Grand National championship for 1954.




The revised 1954 241 cu in Dodge 2 bbl double-rocker engine was tested by the AAA at Bonneville where the car set 196 new AAA records. It also won Mobile Oil economy runs for both standard (overdrive) cars and automatics (Powerflite) travelling from Los Angeles to Sun Valley Idaho. The combination of the AAA records and the economy run wins helped to secure the selection of the 1954 Dodge Royal as the 1954 Indianapolis 500 race pace car.




The pace car was a yellow Dodge Royal convertible equipped with the 241 cubic inch double rocker V8 and the new fully automatic 2-speed Powerflite transmission. However, to ensure that there would not be issues with the car underperforming in front of a massive Indianapolis race crowd, the engine was equipped with a four barrel Carter carburetor sitting on an Offenhauser aluminum 4 bbl manifold. This combo added in the order of 20 hp bringing the total to around 170 hp (some "stories" say 200 hp but that isn't very believable). The pace car was so successful that 701 clones were built and sold. Not confirmed, but apparently, the manifold and carburetor could be bought from Dodge dealers and added to a "normal" 1954 double rocker 241 in a Royal or Coronet )(or Meadowbrook?)



(Photos courtesy of dodge59 when he was selling his 1954 Dodge Royal Pace Car)

Part 3 1955 Dodge Super Red Ram

By 1955 Dodge (and Chrysler and Desoto) were probably starting to realize that although the double-rocker V8 was great for both performance and fuel economy (think: "those 196 1954 AAA records with the 241"), it was an expensive engine to build (read "Profit sucking"). As a result, they had developed a new engine with similar performance characteristics that used only one rocker shaft, the polyspherical engine. Needing a name for the new engine and not yet ready to abandon the "Red Ram" name that had become very well known, the double-rocker V8 was elevated to "Super Red Ram" and the polyspherical engine was dubbed "Red Ram". The other change for 1955 was the increase in bore size to 3.625" which, with the same 3.25" stroke as the 241, yielded 268.34 cubic inch which was marketed as the "270". With a 2 bbl Stromberg carburetor, this new "270" was rated at 183 hp (more than the 241 Pace Car engine). In addition, a "Power Pack" was made available as an option. This consisted of 4 bbl Carter WCFB carburetor, a 4 bbl cast iron (factory) intake manifold and dual exhaust, raised the hp to 193.

1955 Dodge engine bay photos

Here is a 1955 Dodge with the 270 Super Red Ram engine, in this case, equipped with the optional 4 bbl manifold and carburetor (note: Air Cleaner is different for the 4 bbl than the 2 bbl). Note also that this one was a fairly early build and it has the Super Red Ram embossed in the valve cover (and painted).




Here is another 55 Dodge Super Red Ram, this time with the later, non-embossed, flat valve covers and a slanted two-tone "Super Red Ram" decal:




Here is a later build 1955 Dodge with the Super Red Ram decal and the "stock" 2 bbl carb and intake: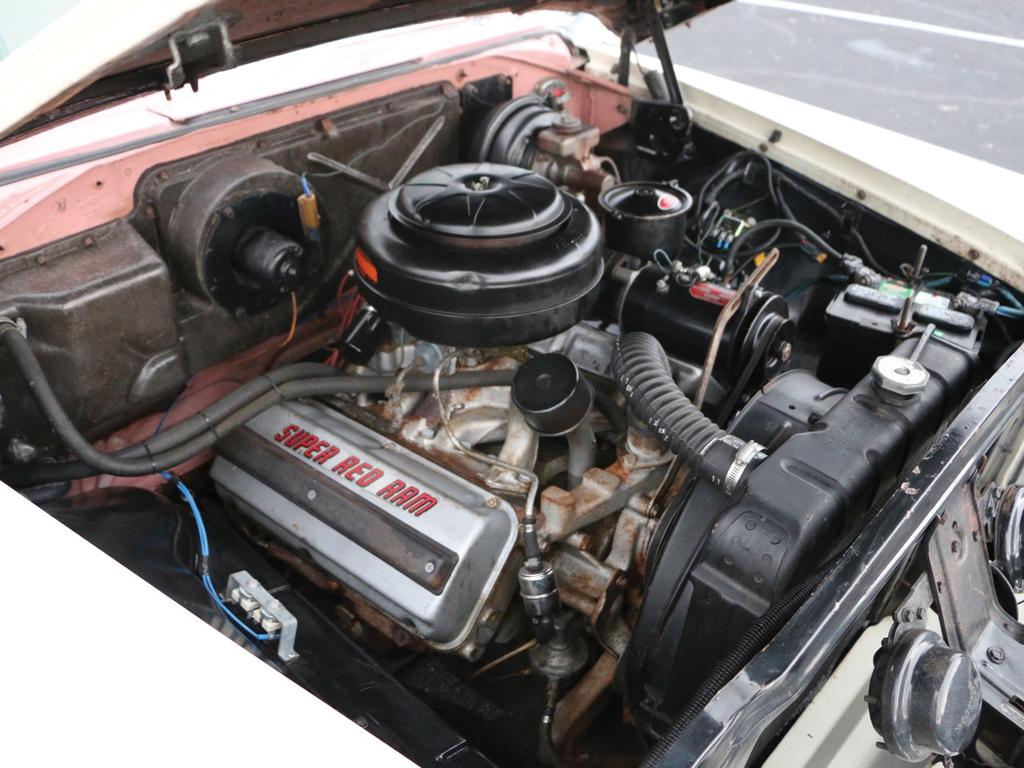 Regarding racing, Lee Petty started the 1954-55 Nascar season with his 1954 Chrysler and was quite successful. However once the Kiekhaefer team and its meticulously prepared 1955 Chrysler C300s started racing, Lee Petty started racing C300s as well, for example, coming 2nd to Tim Flock (in a Kiekhaefer C300) at Daytona Beach in February, 1955. 1955 Dodges were also raced by Lee Petty and others, but out of the 45 race 1954-55 NASCAR race season, there was only one 55 Dodge win (Lee Petty at Winston-Salem). In contrast Chrysler C300s won 23 of the 45 races with Tim Flock in the driver's seat for 18 of those. It was the start of the two year Kiekhaefer/Mercury Marine Chrysler 300 dominance.

Here is an example of Lee Petty in his 1955 Dodge prior to the start of a NASCAR Cup race at North Wilkesboro Speedway. Eventual winner Buck Baker in a Ford (No. 87) had the pole position, with Herb Thomas in a Chevrolet on the outside of row one. Marvin Panch was driving Ford No. 98. Lee Petty in his 1955 Dodge No. 42 would finish second behind Baker.





Part 4 The 1956 D-500 260 hp 315 cu in Double Rocker Engine

If you were a fan of the 1955 double-rocker "Super Red Ram" engine, you would have been disappointed with the initial offerings for the 1956 Dodge model year. The initial announcements didn't include any signs of a double-rocker engine, just three polyspherical engines based on the 1955 Dodge "Red Ram" poly. In fact there were now three different flavours of "Red Ram" engines in the 1956 Dodge line up announcements. NONE of them were double rocker engines. They were all polyspherical head engines. The lowest hp /smallest of these was the "Red Ram" 270 cu in 7.6:1 compression 2 bbl 189 hp engine carried over from 1955. Next up was the "Super Red Ram" "315" cu in 2 bbl 218 hp poly. Topping the initial list of 1956 Red Ram engines was the 4 bbl dual exhaust 315 cu in 4 bbl 230 hp "Super-Powered Super Red Ram" poly. The "315" engines were the result of an increase in stroke to 3.80" (from 3.25" for the 270) which also required a deck height increase to 10.38" from 9.29".

The initial October 1955 engine line up for the 1956 Model Year Dodges:




Fortunately, if you were waiting for a double-rocker Dodge engine, your disappointment went away on Dec. 22, 1955 when a brand new double-rocker engine was announced. This engine had the same increase in stroke as the 315 poly (to 3.80") and the same increase in deck height as the poly (they shared blocks and cranks). However, the double rocker heads on this new engine sported larger valves with the intake valves increasing to 1.83" and the exhaust to 1.57" when compared to the 1955 double-rocker Super Red Ram . With a compression ratio of 9.25:1 and the addition of solid (adjustable) lifters and a Carter 4 bbl carburetor, this new "315" (actually 313.4) cubic inch "D-500" engine made 260 hp, a significant jump from 1955's previous high for the Super-Powered Super Red Ram Power Pack of 193 hp.

While the initial announcement of this new 260 hp double rocker engine on December 22nd, 1955 called it a "Super Red Ram" engine, I think that was a bureaucratic oversight because there were already three "Red Rams" in the line up and one of them was the "Super-Powered Super Red Ram". What kind of Super Red Ram was the 260 hp double-rocker supposed to be? Super-Duper Super Powered Super Red Ram? I don't think so Tim. Regardless, by the next press release on December 30th, 1955, the new double rocker engine was *mostly* called simply the "500" engine. After that, from what I have seen, it was never called any form of "Red Ram", just "500" or "D-500" or "D500". Furthermore, with 260 hp, at least for a few weeks, it was at the very top of the Dodge engine line up.

Here is a photo of a nicely restored D-500 engine showing its characteristic red air cleaner, 4 bbl carburetor, red valve covers (with clearance bumps for the solid lifter adjusters) and black spark plug wire covers. (NOTE: no embossed or decal name on the flat valve covers):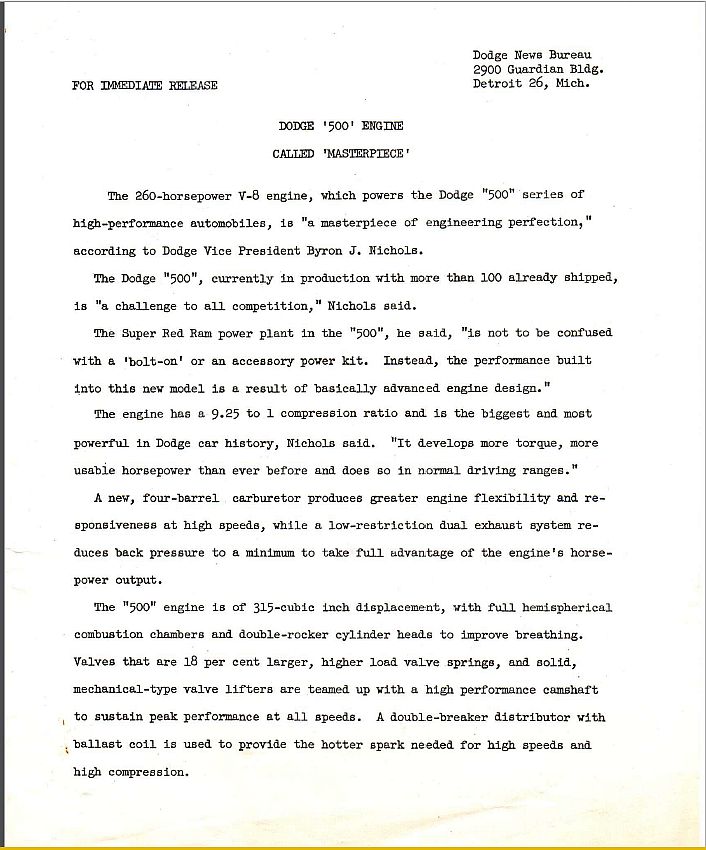 The emergence of the D500-1

With the first release of new D500 engine in December, there were also a few even heavier "maximum duty" chassis cars (with Imperial hubs, drums and wheels and even heavier rear leaf springs, etc.). These early D500 cars destined for the race tracks were designated D500-1 and they were one up on what the public had been offered as a D500 car back in Dec. 1955 and were the peak of Dodge power and performance for 1956.

That is, until Daytona Beach in February, 1956. By that point, Dodge was releasing an upgrade package that included a 2 x 4 bbl intake manifold and tandem 4 bbl Carter WCFB carburetors, a wilder camshaft, bigger exhaust manifolds (and downstream pipes) that combined made a claimed 275 (276?) hp. The racing boys (both NASCAR and drag strip) and some civilians with money and/or connections embraced this new D500-1 engine package. The icing on the cake was the heavy duty, race-ready chassis that used Imperial hubs, axels, wheels and brakes and stiffer/thicker suspension springs as part of the maximum duty chassis package designed to match the capabilities of the D500-1 engine.

During the season, more D500-1 parts were made available to racers in the know, including higher compression heads (10.0:1), even wilder camshafts and a very wide range of rear differential gears (from 3.54 to 4.78 with the 8.25" ring gear and 3.07 to 4.89 with the optional 8.75" ring gear). Supposedly (unsubstantiated), these higher compression, more wildly cammed, D500-1 engines made upwards of 295 hp (or 0.940 hp/cu in), which was very close to the "magic" 1.0 hp/cu in which had been attained with some versions of the 1956 Chrysler 300B 354 cubic inch engine with higher compression and 2 x 4 bbl carburetion.

1956 D500-1 photos

The limited addition (maybe 100?) 2 x 4 bbl aluminum intake manifold:




Tim Dupont's D500-1 engine bay:




Photo of the replica of Lee Petty's No. 42 D500-1 2 dr post Coronet with the large Purolator paper element air cleaner over the 2 x 4 bbl carbs:




1956 Race results

The first exposure of the D500-1 to the public was at the February 1956 Daytona Beach time trials. Simply called the D500 so not to call too much attention to the "new" parts (the 2 x 4 bbl manifold, etc), it did very well. It came first in the 1 mile standing start speed trial, besting even the mighty Chrysler 300-Bs. In it's class, No. 6 (305 cu in to 350 cu in), the D500 (actually D500-1) had the highest top speed in the running start measured mile (2-way average to account for wind direction).




There were 5 NASCAR races before the February 1956 Dayton Beach and Road Course race (which followed in the days after the speed trials on the beach). The first appearance of the 275 hp D500-1 was at the Daytona Beach and Road course race. The race was won by Tim Flock in a Kiekhaefer Chrysler 300B (Car No. 300A). Fonty Flock was 10th in a Kiekhaefer team 56 Dodge D500-1 (No. 500B). Lee Petty was 12th in his 56 Dodge D500-1 (No. 42 (of course)).




Overall, twenty-two of the 56 1955-56 NASCAR season races were won by Chrysler 300Bs (Tim Flock, Buddy Baker, Speedy Thompson, Herb Thomas, Fonty Flock). Eleven of the 56 1955-56 NASCAR season races were won by 56 Dodges, all of them after the February Daytona race so most likely with the maximum duty D500-1 engine and chassis package. Most of the Dodge wins in 1956 were by Buck Baker and Speedy Thompson of the Kiekhaefer team. Two of them were by Lee Petty in No. 42. One, in Portland, OR, was by Royce Haggerty and there was one by Jack Smith. All of the D500-1 wins were on the shorter, 0.5 mile tracks, and all but one on dirt.

Part 5 - The 1957 Dodge D500 Double Rocker Engines

Unless you've been hiding in a cave with no internet, this next statement won't be a surprise: 1957 was the last year for the Dodge double-rocker engine.

Don't cry.

You knew that it had to come. The double-rocker V8 was just too expensive to make and Chrysler engineering had discovered that wedge-shaped combustion chambers and intake and exhaust valves lined up beside each other were not the devil incarnate as had been thought earlier. Those wedge-engines would come in 1958 as the low block "B" engines.

In the meantime, for 1957 there were still four engines in the Dodge line up: Two varieties of "Red Ram" polyspherical head engines and two double-rocker D500 engines. All of these engines had a slightly large bore than in 1956 (3.69" vs. 3.625" in 1956) but the same 3.80" stroke for a total displacement of 325.1 cubic inches (marketed as simply "325"). All four of them had hydraulic lifters.

Of the two D-500 double-rocker engines, the single 4 bbl 325 cubic inch D-500 engine made 285 hp, which was virtually the same specific hp (0.877 hp/cu in) as the 1956 315 cu in D500-1 engine with the 2 x 4bbls engine (0.880 hp/cu in), proving that there is no substitute for cubic inches if hp is your goal. Naturally, there had to be 2 x 4 bbl engine for 1957 as well. This was the "Super D-500" which made 310 hp with two 4 bbl Carter WCFB carbs for a specific hp of 0.954 hp/cu in, very very close to the "magic" 1.0 hp/cu in which had been attained with some versions of the 1956 Chrysler 300B 354 cubic inch engines with a higher compression ratio and 2 x 4 bbl carburetors.




Here is a photo of a 1957 Dodge single four barrel D500 engine (note the carry over of the solid lifter adjustment clearance bumps on the valve covers, even though the 1957 engines were equipped with hydraulic lifters):




Here is a photo of a 1957 Dodge tandem 4 bbl Super D500 engine:




As far as racing went, for 1957 Kiefhaefer and his team were gone from NASCAR and there was no one filling the void. No 1957 Chrysler products won any of the NASCAR Grand National races. Lee Petty was driving an Oldsmobile. The former Kiekhaefer drivers who had been so successful with the Chrysler C300s in 1955 and the 300Bs and the Dodge D500-1s in 1956 were driving Chevies and Fords for the 1957 race season. That said, as a footnote, there were a few (6?) 1957 Dodges prepared for racing with the 354 Chrysler engine with the 2 x 4 bbl carburetion, etc. These were known a D501s (different than the 1956 D500-1). Only a very few survive. Since they did not use a Dodge double-rocker engine, they are only included here as a footnote. "Famously" Lee Smith, a well known drag racer (back in the day), owns a 1957 D501 that was drag-raced by Arnie "The Farmer" Beswick who had previously successfully drag raced a 1956 D500-1 in the 1956 race season. This car has spent time on display at the Don Gartlits drag racing museum in Ocala, Florida.

While not truly a Dodge engine, here is a photo of the 354 Chrysler-based D501 engine in the Lee Smith/Arnie Beswick 2 dr post D501 57 Coronet body (you can tell a Chrysler engine by the asymetric nature of the valve cover (bigger flat area towards the intake manifold compared to the area below the wire cover, towards the exhaust manifold - The Dodge double-rocker valve covers were more symetrical in this regard):




Finally, an overall summary of the specifications of the 1953-1957 Dodge double-rocker ("hemi") engines:

Table 2 (still some blanks to maybe, eventually, fill in):




Okay, that was way way too much work.


Edited by 56D500boy 2021-04-12 11:27 PM