Location: The Mile High City
Not Mine!

http://denver.craigslist.org/cto/4609705934.html
Two 1959 Plymouths for sale:

One is a 2 door post top Savoy that I intended to use as a parts car for the more coveted Fury - which is a 2 door hard top with the red and white 2 two-tone color scheme with Flame Red and Iceberg White (which I think is original to both cars).



Clear Colorado titles in hand for both cars. I live in the Denver area.

I was told that one came out of Arizona (the Fury), and to my knowledge the other from Colorado. There is rust that needs to be addressed, but nowhere near what you would see in wetter climates.

My plan was to build a street rod, but after fifteen years of storing these cars, and never finding the time or funds to start fixing them I have decided to sell. I was newly married when I bought them, now I have four great kids to look out for.

I would like to sell them as a package deal, but I will describe each car below.

Plymouth Savoy: Some rust, body is straight and has decent glass (sadly there are a few bb holes in the front windshield). The dash on this car is in better shape than on the Fury. It has the six cylinder motor that I pulled and was going to sell, but it had a knock and the buyer didn't want it. So the motor and transmission are sitting with the car and will go with it. Three on the tree. 47,598 on the odometer. $2500 obo

Plymouth Fury: This is the one to do the full restoration on if you have the time and money. More rust on the Fury, and the interior is worse. Has the original 318 poly V8 motor (2bbl) and pushbutton Torqueflite transmission. Crack in front windshield. The drivers side door had been dented but I had it re-skinned. It is primer-ed and ready to go. 21,041 on the odometer. Power brakes and power steering (I think). There is no radiator. $5,500 obo
I am including a few things with the Fury - the original 1959 Owners manual "star of the Forward Look - Plymouth." As well as Dupont Color code sheet for 1959. Finally - an original Plymouth Fury show folder from '57?.

Both cars have the typical rust on the shotgun style front fenders, but I have an additional set of front fenders (and grill) that will go with the cars (see pictures).

A lot of the side trim for the Fury is sitting in the trunk. I am not sure if it is all there, but you at least have a good start.

To my knowledge both cars have original motors and transmissions, and were never messed with.


I can take more pictures and check details for you if you want more information. Serious inquiries only please. Buy them both for 7000.
(1959 plymouths 01.jpg)
(1959 plymouths 02.jpg)
(1959 plymouths 03.jpg)
(1959 plymouths 04.jpg)
(1959 plymouths 05.jpg)
(1959 plymouths 06.jpg)
(1959 plymouths 07.jpg)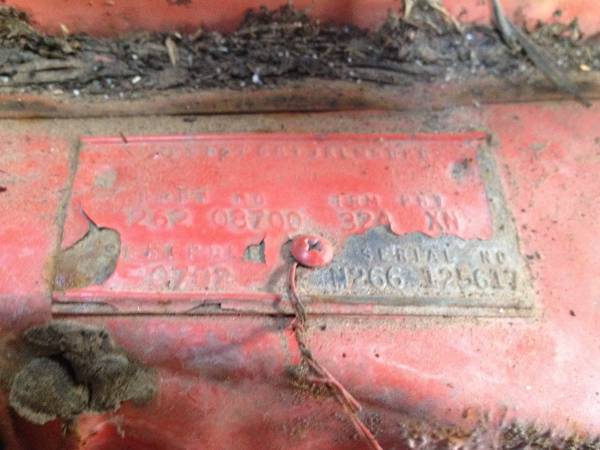 (1959 plymouths 08.jpg)




Attachments
----------------


1959 plymouths 01.jpg (36KB - 235 downloads)

1959 plymouths 02.jpg (42KB - 226 downloads)

1959 plymouths 03.jpg (14KB - 227 downloads)

1959 plymouths 04.jpg (30KB - 285 downloads)

1959 plymouths 05.jpg (17KB - 250 downloads)

1959 plymouths 06.jpg (22KB - 262 downloads)

1959 plymouths 07.jpg (38KB - 217 downloads)

1959 plymouths 08.jpg (36KB - 264 downloads)










Location: The Mile High City
Back on Craigslist - price is down to $4,000 for two cars! Listed in Strasburg...