I can confirm that this particular 57 Fury that Len has is extremely tidy and original. I envy the chance to restore such an original rust free Fury.
If his convertible is anything to go by, I can't wait to see the completed restoration.
We thoroughly enjoyed the hospitality that was shown to us in Texas in 07 and look forward to coming back some day.
Glenn.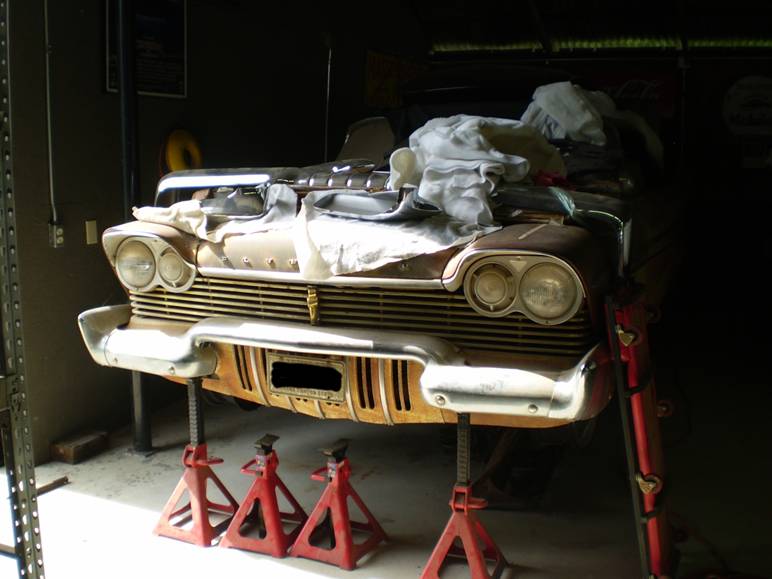 From: Leonard Zimmerer [mailto:lz57heaven@xxxxxxxxxxx]
Sent: Monday, June 06, 2011 5:07 AM
To: mjraguse@xxxxxxx; Glen Barratt; goldenfin@xxxxxxxxxxxxxxx; John Paxos; Lonnie Bishop; Howard Oder; Mike Meier; John Sivanich
Subject: Restoration of 1957 Plymouth Fury VIN 16332910
Marv,
Thanks for the book. While I knew most the the overall information...more is gained from it reading and reviewing it. Currently my friends and I are restoring a very nice 57 Fury. It is original and and undergoing a complete restoration. Found your information regarding the engine number on the frame of interest. It does match up to the original engine that came in the car. On the frame, where you stated it is to be, P31-394412 appears. On the engine itself is the same number preceded by the slanting "F". This engine was original to the car and was running with moderate blow-by when tore down for re-built by Max Long Racing Engines. It was rebuilt stock.
I also have a blue Belvedere 2-door hardtop chassis and there is no number on it. Maybe this is a Fury Only consideration?
On mine the engine and transmission are redone. Incidentally the FP31 dyno'ed out 294 HP on a Super Flow Dyno per a 20% conversion from current net HP measurement to the 50's Gross HP. The brite dip gold anodizing was done by the folks in North Hollywood, CA...looks good.
Glenn Barratt and lady friend has seen this car and was at the farm where it is stored prior to going on to Tulsa. What an enthusiasts he is!Hopefully this can will be completed within two years and we will have it at a Golden Fin get together.
Best Wishes...Len Zimmerer